Open Air Finale: Roger Waters The Wall in Quebec Les Plaines D'Abraham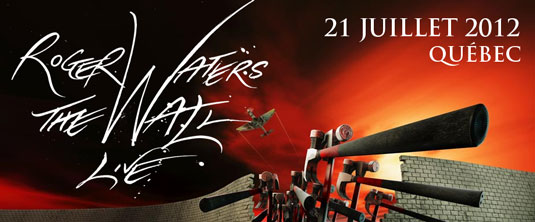 Gestern fand das große The Wall Finale in Quebec statt. Das Konzert Nummer 192, der 2010-12 The Wall Tour, war etwas ganz besonderes!
Roger Waters und sein Kreativ-Team um Sean Evans, griffen für dieses Konzert noch einmal tief in ihre Trickkiste. Eine über 240 Meter breite "Wall", die sich mit ihren Kurven durch den Park schlängelte, viele zusätzliche Scheinwerfer, viermal so viele Feuerwerkskörper wie bei den anderen Open Air Shows, sorgten bei den Konzertbesuchern für Staunen! Einige Filmkameras wurden aufgestellt um dieses historische Ereignis festzuhalten, vielleicht bekommen wir auf Waters zukünftiger Konzert-Bluray einige dieser Aufnahme, als Bonus bzw. in der Tour-Dokumentation zu sehen.
75.000 Menschen ließen sich dieses Ereignis in Quebec nicht entgehen und jubelten Waters von der ersten bis zur letzten Minuten, der sehr berührt davon war, zu: "Vielen Dank Quebec! Es ist schön euch zu zu hören! Wir haben 192 Shows seit 2010 gespielt, dass ist die letzte. Es war ein sehr guter Ort, um es zu beenden. Wir werden uns an diese Nacht für den Rest unseres Lebens erinnern."
Auf der Facebookseite des Veranstalters gibt es einige Fotos die das ganze Ausmaß des gestrigen Konzerts zeigen: Roger Waters : Festival d'été de Québec.
We might do some more next year…
Links: Roger Waters : Festival d'été de Québec, Huffingtonpost 21.7.2012 Roger Waters Quebec
Roger Waters in Quebec:
10.11.1971 Quebec Pavillon de la Jeunesse (mit Pink Floyd)
07.11.1987 Quebec Colisée de Québec
30.07.1999 Quebec Agora du Vieux-Port
04.06.2007 Quebec Colisée Pepsi