Roger Waters 14.4.2007 Budapest Sportarena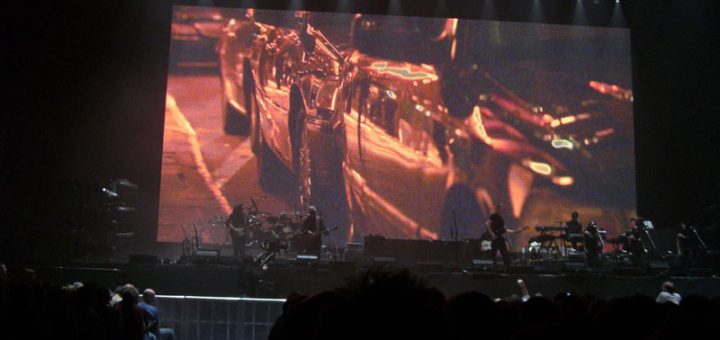 Bericht von Thomas Zeidler
"Mother" war super – vor allem weil die Ungarn, die ja wieder mal am Rande einer Revolution stehen, die Zeile "Mother should i trust the Government" lautstark bejubelten. Die The Final Cut Songs sowieso und "Sheep" ist der Hit! "Leaving Beirut" brauch ich persönlich nicht so wirklich – vor allem rennt das Video zu schnell. Das mitlesen beim Comic spielt es selbst für einen halb-briten wie mich nicht wirklich.
"On The Run" kommt von den Licht wie Ton Effekten irre klaustrophobisch – das fährt voll rein – nix für schwache Nerven. Bei den Zugaben ist man dann in The Wall so drinnen, dass das ruhig noch eine Weile so weiter gehen könnte – aber vielleicht überrascht uns Roger ja mal mit der kompletten The Wall. Die "Comfortably Numb" war Version war sehr sehr gut!
Die Filme sind sehr sehr gut und kommen extrem 3-dimensional. Meinem Freund (jetzt nicht der größte Floyd-Fan) gefiel übrigens "Set the Controls" am Besten. Ich hätte auch gern ein wenig mehr Solomaterial gehört – so wie 1999. Was mich gewundert hat, war, dass das Konzert in Budapest wirklich komplett ausverkauft war – bei doch eher stolzen Ticket-Preisen.
Set 1:
01. In The Flesh
02. Mother
03. Set The Controls For the Heart Of The Sun
04. Shine On You Crazy Diamond Pt.1-5
05. Have A Cigar
06. Wish You Were Here
07. Southampton Dock
08. The Fletcher Memorial Home
09. Perfect Sense Pt.1
10. Perfect Sense Pt.2
11. Leaving Beirut *new
12. Sheep
Set 2:
13. Speak To Me
14. Breathe
15. On The Run
16. Time
17. Breathe Reprise
18. The Great Gig In The Sky
19. Money
20. Us And Them
21. Any Colour You Like
22. Brain Damage
23. Eclipse
Encores:
24. The Happiest Days Of Our Lives
25. Another Brick In The Wall Pt.2
26. Vera
27. Bring the Boys back Home
28. Comfortably Numb