The Australian Pink Floyd Show 13.2.2009 Oberhausen Köpi Arena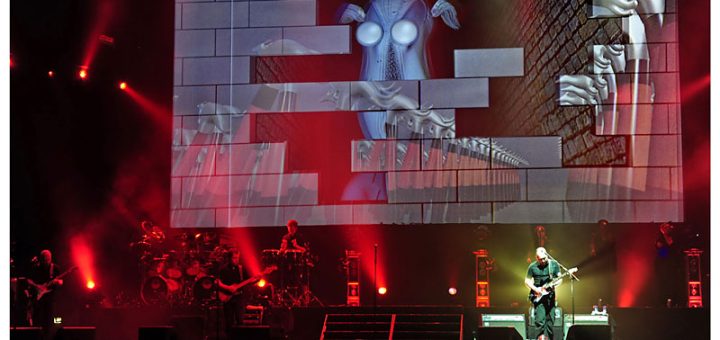 Für mich ist PINK FLOYD eine der wichtigsten Bands der Rockgeschichte, die mit ihrem Sound unzählige Musiker beeinflusst hat. Leider sind die Aussichten auf eine Reunion von Gilmour, Mason & Waters, abgesehen vielleicht von nochmaligen, wichtigen Anlässen, wie Live Aid einer war, extrem gering.
Bericht und Fotos von Joachim Lingelbach
Schlechte Karten für uns, die wir PINK FLOYD und ihre außergewöhnliche Musik & Bühnenshow gern noch einmal live sehen würden. Aber es gibt auch Alternativen:
THE AUSTRALIAN PINK FLOYD SHOW, ist wieder mit einer überwältigenden Live-Show 2009 auf Tour. Nach den umjubelten Produktionen der Alben 'Wish You Were Here' und 'The Dark Side of The Moon', die weltweit mehr als eine Million Fans begeistert haben, touren THE AUSTRALIAN PINK FLOYD SHOW nun mit dem wohl ehrgeizigsten und gleichzeitig größtem PINK FLOYD-Projekt: 'THE WALL', auch durch Deutschland.
Eine sehr aufwändige Produktion, gigantische Laserinstallationen, komplexe Projektionen, spektakuläre Lichteffekte und riesige, mit Luft gefüllte Figuren sind das optische Beiwerk zu den bekannten Tracks des gleichnamigen Albums. "Comfortably Numb" mit zwei soliden Solos und eine Megazugabe mit anderen PINK FLOYD-Klassikern erzeugte Gänsehaut pur. Eine bessere Gelegenheit, die wohl großartigste Rockmusik, die jemals geschrieben wurde, noch einmal live "on stage" zu hören und zu sehen, wird es wohl nicht mehr geben!
Nach Köln war Oberhausen das zweites Konzert 2009 mit THE AUSTRALIEN PINK FLOYD SHOW das ich besuchen konnte. Mein Eindruck von der Show war erneut überwältigend.