Floyd Division 12.2.2010 Wien Reigen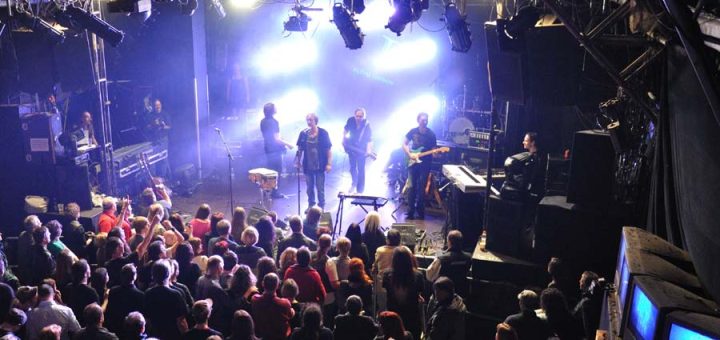 Bericht von Günter W. Hieger
Irgendwann im Jänner 2010 hat mich Roman Bischof im Facebook kontaktiert weil er einige Hinweise auf Pink Floyd auf meinem Profil gefunden hat. Erst nach Bestätigung seiner Freundschaftsanfrage fand ich heraus, dass er der Sänger der Pink Floyd Division war, so kam ich dann auch zum Termin des Auftrittes am 12.02.2010 im Reigen in Wien. Ich wusste nicht so recht, was mich dort erwarten würde, Hörproben hatte ich bis dahin keine, da ich die letzten drei Wochen keinen Zugriff auf das Internet hatte. Ich war schon lange vor Einlass da und hörte "Us and them" vom Soundcheck, das stimmte mich positiv für den Abend, als dann noch "High hopes" intoniert wurde, wusste ich, dass die Band es "drauf hatte".
Roman kam kurz vor Einlass heraus und begrüßte mich bei der Gelegenheit, es kam zu einem kurzen Plausch, dann kam mein Sohn und wir gingen hinein. Beginn war für 20:30 angekündigt, tatsächlich aber startete die Band exakt um 21:00 Uhr mit "In the flesh".
Das Publikum war, so wie bei den letzten Pink Floyd Konzerten auch, gemischt, zuerst die +60 Generation, (so wie ich), dann deren Kinder (wie mein Sohn) und dann noch die ganz Jungen. Die Stimmung im Reigen war absolut positiv, es war wie ein Familienausflug mit guten Freunden, wozu natürlich auch die Band, die keinerlei Berührungsängste zeigte, beigetragen hat. Die weitere Playlist, – shine on, time, money, breathe, us and them, Brain damage, Eclipse, high hopes, coming back to life, sorrow, hey you. Damit verabschiedete sich die Band, wurde aber vom nicht enden wollenden Applaus des Publikums zu drei Zugaben "gezwungen", sie spielten dann noch: Another brick in the wall, Pt. 2, Wish you were here, und Comfortably numb . Um 22:30 Uhr war dann endgültig Schluss.
Band:
Roman Bischof – Vocals & Percussion
Thomas Scherrer – E-Gitarre, Akustik Gitarre
Geri Cuba – E-Gitarre, Akustik Gitarre
Markus Herwig – Keyboard
Ronny Wieger – Bass
Otmar Dangl – Drums
Clemens Geist – Saxophon
Daria Kinzer – backing Vocals
Julia Preglau – Backing Vocals
Songliste:
01. In the flesh
02. Shine on you crazy Diamond
03. Time
04. Money
05. Breathe
06. Us and them
07. Brain damage
08. Eclipse
09. High hopes
10. Coming back to life
12. Sorrow
13. Hey you
Zugaben:
14. Another brick in the wall, Pt. 2
15. wish you were here
16. Comfortably numb
Insgesamt war die Band mit ihrer Musik mehr als nahe am Original, sie brauchen sich vor keiner Pink Floyd Tribute Band, von der Lichtshow einmal abgesehen, zu verstecken, speziell bei "Sorrow" habe ich gestaunt, was Thomas Scherrer aus seiner "Musicman Silhouette Special" herausgeholt hat.
Resumeé: Für eine Band, die erst seit August 2009 zusammenspielt, eine phantastische Vorstellung, die einen größeren Rahmen verdient. Wie ich von Roman weiters gehört habe, ist man dabei, weitere Lieder für künftige Gigs einzuspielen.
Foto © Günter W. Hieger