The Australian Pink Floyd Show 10.3.2010 Oberhausen König-Pilsner-Arena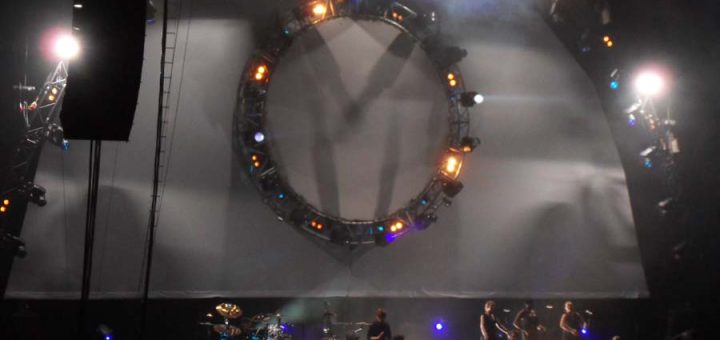 Bericht von Joachim Lingelbach
Der weite Weg von Leipzig hat sich wieder gelohnt!! Vor meinem fünften Australian Pink Floyd Konzert in Deutschland war ich echt neugierig ob die Band auf das bereits gebotene noch einen drauf setzen könnte?
Die Antwort: eine hoch motivierte Band, witzige und nachdenkliche Videoclips, gewohnt guter Sound und wieder eine geniale Lasershow vom Feinsten, so könnte man auch das heute Abend erlebte Konzert kurz zusammenfassen.
Band:
Ian Cattell – Bass, vocals
Steve Mac – Gitarre, vocals
Damian Darlington – Gitarre, vocals
Jason Sawford – Keyboards
Paul Bonney – Schlagzeug
Carl Brunsdon – Saxofone, percussion
Amy Smith – backing vocals
Jacquie Williams – backing vocals
Ola Bienkowska – backing vocals
Songliste:
01. Speak To Me
02. Breathe
03. On The Run
04. Time
05. The Great Gig In The Sky
06. Shine On You Crazy Diamond 1-5
07. Welcome To The Machine
08. Pigs (Three Different Ones)
09. Sheep
– Pause –
10. Astronomy Domine
11. Learning To Fly
12. High Hopes
13. Us And Them
14. Careful With That Axe, Eugene
15. Take It Back
16. The Gunner's Dream
17. The Happiest Days Of Our Lives
18. Another Brick In The Wall Pt.2
19. Wish You Were Here
20. One Of These Days
21. Comfortably Numb
– Zugabe –
22. Run Like Hell
The Australian Pink Floyd kommt dem legendären Original sehr, sehr nahe und ist meiner Meinung nach musikalisch, technisch und optisch auf Top Niveau. Nach der langen Setlist des Konzertes war der Showdown mit Comfortably Numb und Run Like Hell für mich besonders überwältigend.
The Australian Pink Floyd, eine Band der man die Spielfreude deutlich anmerkt, eine nicht endende Licht-und Laser Show und ein begeistertes Publikum werden nachhaltig in Erinnerung bleiben. Was sind da 600 km Heimfahrt!
Bericht von Roswitha Wolff-Janssen
Viel sagen zum dem Abend möchte ich nicht. Es war einfach genial. Ironisch kann man nur sagen: "Pink Floyd sind am Leben, es geht ihnen gut und sie sind auf Tour."
Bericht von Ralf Höntsch
Nach einem genialen Gig von Jean-Michel Jarre am letzten Samstag war ich am Mittwoch zum insgesamt fünften Mal bei der "The Australian Pink Floyd Show" in der Arena in Oberhausen. Ich muß sagen, es war fantastisch! Ich habe die Jungs (und Mädels) schon immer super gefunden, aber das war einfach SPITZE! Abgesehen von der klasse PA hat die Band einen Abend der Superklasse zelebriert. Es gab einen tollen Querschnitt vieler Phasen des Originals – TDSOTM, WYWH, Animals, The Division Bell und nicht zu viel von The Wall. Etliche meiner Favoriten waren dabei: Astronomy Domine, Careful… (leider stark gekürzt), Learning To Fly, Sheep uvm. Die unvermeidlichen Another Brick In The Wall 2 und Wish You Were Here durften natürlich nicht fehlen und brachten Standing Ovations. Ein Höhepunkt war einer meiner all-time-favourites: One Of These Days, bei dem – man sollte es kaum glauben – DAS Schwein neben der Bühne mit roten LED-Augen durch das Publikum tanzte, anstelle des rosa Kängurus, das ansonsten in Original-Filmen und Adaptionen immer mal wieder präsent war.
Alles in allem waren "The Australian Pink Floyd Show" noch näher am Original wie bei meinen bisherigen Besuchen, selbst bei den knappen Kommentaren, die einem David Gilmour auch die Ehre gereicht hätten…
Wenn die Aussies mal wieder in der Nähe sind, werde ich da sein!