Pink Floyd lüften ihre Geheimnisse – endlich!
Die neue Uncut Ausgabe widmet sich ganz der Pink Floyd Box "The Early Years 1965 – 1972", deren Veröffentlichung näher und näher rückt! Die vielen kurzen Clips, die Floyd auf ihrer Facebookseite veröffentlichten und die 60 Minuten "The Beginnings" auf BBC lassen die Vorfreude darauf nur noch mehr steigen!
Pink Floyd Their Secrets Unlocked – Finally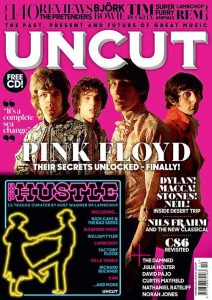 Bei Uncut hat man mit Leuten aus dem Umfeld der Pink Floyd gesprochen und mit dem Drummer der Band Nick Mason, sogar ein Mitglied höchstpersönlich zum Interview gebeten, um über den Paradigmenwechsel der Floyd's zu sprechen. Denn war es bei Pink Floyd bis vor wenigen Jahren Tradition nichts aus dem Archiv zu veröffentlichen, denn wer es einmal nicht geschafft hat auf eines ihrer Alben zu kommen, der ist auch gegenwärtig nicht geeignet für irgendwelche Releases! So ändern sich die Zeiten! Was kümmert mich mein Geschwätz von gestern!
Nick Mason: This boxset is a complete sea change, really, from the days when we were very careful about what we would release, to actually digging about to find old things.
Mit den Immersions Boxen von Dark Side Of The Moon, Wish You Were Here und The Wall, die 2011 und 2012 noch unter EMI produziert wurden und der Veröffentlichung eines neuen Albums in Form von "The Endless River" bewiesen Pink Floyd, dass "Pigs On The Wing" tatsächlich existieren!
Mit der 27-Disk fetten Mega-Box "The Early Years" legen sie deutlich nach und sind jetzt auch auf dem Gebiet der Archiv-Material-Releases ganz vorne dabei!
Mehr über die neue Uncut Ausgabe findet ihr unter: Pink Floyd Their Secrets Unlocked – Finally.