Nick Mason Interview: The Wall 1980/1981, Animals und Momentary Remixes!
Nick Mason verbrachte die letzte Woche in New York um dort ein wenig Aufmerksamkeit auf die "The Early Years 1965-1972" Box von Pink Floyd zu lenken. Er gab eine Vielzahl von Interviews. Ich beginne mit dem AOL Interview, das gestreamt wurde benutzt dazu den link unterhalb. Sehr interessant waren die Fragen, die aus dem Publikum gestellt wurden.
Werden die The Wall Filmaufnahmen von Nassau oder Earls Court eines Tages veröffentlicht?
Nick Mason: The answer is we haven't really got a plan for what comes next. We will do the exhibition next and see maybe there is something to do. the problem with The Wall Shows is, we did do some filming, but not the complete thing. Rogers now done a version, which in have to say is terrific, the video element of that is sensational. The big question is, how many versions you can put out without people beginning to get a bit suspicious. We certainly review any thing of that whether we thing its good and interesting enough.
Ich darf Mason beruhigen, so gut Roger Waters The Wall Film auch ist, einen Konzertfilm von Pink Floyd's 1980/1981 Shows zu bekommen wäre bedeutend wertvoller für viele von uns. Keine Sorge lieber Nick, wir könnten sehr gut damit leben neben Waters The Wall Film einen von Pink Floyd zu besitzen! Also nur her damit! Gerald Scarfe bestätigte mir übrigens, dass die Earls Court Aufnahmen, die er gefilmt hat, hervorragend seien! Ich habe eine gutes Bauchgefühl was diese Aufnahmen betrifft! Wir werden noch Augen machen!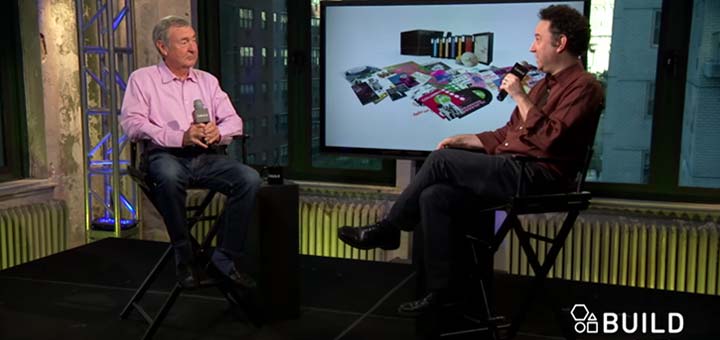 Gibt es Gespräche über die Veröffentlichung des "A Momentary Lapse Of Reason" Albums mit dem von ihnen neu eingespielten Schlagzeug? Was geschieht mit den Atlanta Aufnahmen dieser Tour?

Nick Mason: We will consider everything! And actually the Drum parts were redone. I did actually do them but we never released them. Ah .. I actually forgotten about them .. thank you (lacht). That's an interesting example that we will look at. And the other thing that we did talk about is doing an remix of Animals. Because I think that it's the one Album that we thing, could maybe technical benefit from a revisit the mixing desk.
Mason tut so, als hätte er die neu eingespielten Drums für "Momentary" vergessen. Aber so wie er reagiert können wir davon ausgehen, dass auch diese Version von "Momentary" vor der Veröffentlichung steht. Leider vermeidet er die Beantwortung nach dem Filmmaterial der "Momentary" Tour. Aber ganz sicher wird auch dieses Material bereits gesichtet und gesichert worden sein, von den Rehearsals in Toronto 1987 bis zum Konzert in Venedig 1989 gibt es eine ganze Reihe von sehr gutem Material. Hoffentlich auch die Aufnahmen von Versailles 1988, denn die finde ich sensationell, zeigen sie doch die Maßstäbe dieser Tour! Vielleicht wird auch über eine "The Later Years 1987 – 1994" Box diskutiert! Soviel gutes Material Audio und oder Video würde zur Verfügung stehen! Man denke nur an Demos des "Momentary" Albums, oder fertige Songs die nicht auf dem Album landeten usw. Für Mason und David Gilmour wäre es einfach so eine Box zu gestalten!
Ein Remix von Animals ist fix! Nachdem "Momentary" und "Animals" 2017 runde Geburtstage feiern könnte es vielleicht schon nächstes Jahr so weit sein!
Quelle: Nick Mason Interview at AOL HQ in NYC for BUILD Series.