Das letzte Pink Floyd-Album mit Roger Waters war das einzige Album, das Richard Wright nicht mehr als Mitglied enthielt. Es sollte ursprünglich eine Sammlung von Tracks von The Wall sein, die nicht verwendet wurden, oder alternative Versionen (Spare Bricks war der Arbeitstitel), aber mit dem Ausbruch des Konflikts im Südatlantik über die Souveränität der dortigen Inseln verschrottete Roger Waters die ursprüngliche Idee, sein "Requiem für den Nachkriegstraum" zu schaffen.
The Final Cut ist ein Antikriegs-Konzeptalbum das Waters seinem Vater Eric Fletcher widmete. Es verwundert nicht weiter, dass das Albumcover aus Kriegsauszeichnungen besteht. Man sieht darauf vier Medaillenbänder aus dem Zweiten Weltkrieg, die auf einem schwarzen Stoff gelegt wurden. Von links nach rechts sind folgende Orden zu erkennen: "1939-45 Star", "Africa Star", "Defence Medal" und "Flying Cross".
2004 ist das Album neu veröffentlicht worden mit dem Titel "When the Tigers Broke Free", der vor "The Hero's Return" eingefügt wurde.
The Final Cut a Reqiuem for the Post War Dream
By Roger Waters performed by Pink Floyd. For Eric Fletcher Waters 1913-1944.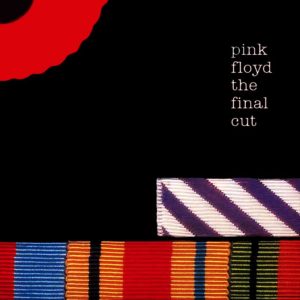 Veröffentlichung: 21. März 1983
Pink Floyd:
Roger Waters: lead vocals, bass guitar, synthesiser, sound effects, acoustic guitar, artwork
David Gilmour: guitars, lead vocals on "Not Now John"
Nick Mason: drum, percussion, sound effects (with holophonics)
All Songs composed by Roger Waters
Songs:
The Post War Dream 2:56

Your Possible Pasts 4:38

One of the Few 1:14

The Hero's Return 2:35

The Gunners Dream 5:29

Paranoid Eyes 3:35

Get your filthy Hands off my Desert 1:19

The Fletcher Memorial Home 4:11

Southampton Dock 2:14

The Final Cut 4:44

Not now John 5:02

Two Suns in the Sunset 5:16



Gesamt: 43:27 Minuten
Zusätzliche Musiker:
Andy Bown: Hammond organ
Ray Cooper: percussion
Michael Kamen: piano harmonium, conducting and arranging of the National Philharmonic Orchestra
National Philharmonic Orchestra
Andy Newmark: drums on "Two Suns in the Sunset"
Raphael Ravenscroft: tenor sax
James Guthrie: remastering producer, engineering, remastering on 2004 re-issue
Andrew Jackson: engineering
Andy Canelle: assistant engineer
Mike Nocito: assistant engineer
Jules Bowne: assistant engineer
Doug Sax: mastering, remastering on 1994 and 1997 re-issues at Mastering Lab.
Recorded between July and December 1982
Studios: Mayfair, Olympic, Abbey Road, Eel Pie, Audio International, RAK, Hookend and the The Billiard Room
Holophonics by Zuccarelli Labs.
Sleeve Design: Roger Waters
Willie Christie: photography
Artwork: Artful Dodgers
Produktion: Roger Waters, James Guthrie und Michael Kamen