Wish You Were Here – David Gilmour in Bestform
26.5.2010: An ein rekordreifes Erfolgsalbum anzuknüpfen ist für jede Band eine riesige und alles entscheidende Herausforderung. Nach 'Dark Side Of The Moon' standen Pink Floyd vor dieser Aufgabe.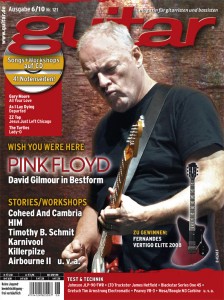 Der große Druck und beginnende Bandschwierigkeiten vereinfachten das nicht unbedingt. Wie dennoch der großartige Nachfolger 'Wish You Were Here' entstehen konnte, könnt ihr in der neuen guitar 6/10 lesen, inklusive der besten Gitarrenmomente des Albums als Noten/Tabs auf CD.
Info: Ina Wagner