Pete Townshend veröffentlicht "Face To Face" Konzert-DVD
Pete Townshend veröffentlicht am 16. September den Konzertmitschnitt vom 29.1.1986 in Cannes erstmals auf CD/DVD. Er trat damals mit seiner Band "Deep End" auf, der David Gilmour als Lead-Gitarrist angehörte. Das Konzert wurde für die Sendung Rockpalast gefilmt! Ich erinnere mich an die Sendung und war einigermaßen erstaunt als ich Gilmour sah!
Townshend spielte 1985/86 vier Konzerte mit "Deep End". Er präsentierte sein neues Album "White City: A Novel". Gilmour spielt auf dem Song "White City Fighting" die Gitarre. Bei dem Konzert in Cannes wurde neben den neuen Townshend Songs auch Titel von "The Who" und Gilmour's "Blue Light" von "About Face" gespielt. Bei den 85er Konzerten in der Brixton Academy spielten sie außerdem auch noch "Love On the Air"!
Pete Townsend's Deep End feat. David Gilmour
11.10.1985 London The Tube TV show
01.02.1985 London Brixton Academy
02.11.1985 London Brixton Academy
23.01.1986 Cannes Gala du Midem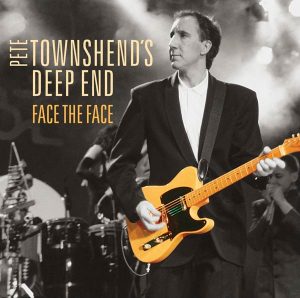 Band:
Pete Townshend: Vocals, Guitar
David Gilmour: Guitar, Vocals
Peter Hope-Evans: Harmonica
Chucho Merchan: Bass
Simon Phillips: Drums
John 'Rabbit' Bundrick: Keyboards
Jody Linscott: Percussion
The Kick Horns: Simon Clarke, Roddy Lorimer, Tim Sanders, Pete Beachill & Dave Plews
Billy Nicholls: Background vocals
Ian Ellis: Background vocals
Chris Staines: Background vocals
Gina Foster: Background vocals
Coral Gordan: Background vocals
TRACKLISTING
01. Won't Get Fooled Again 5:12
02. Second Hand Love 4:40
03. Give Blood 6:30
04. Behind Blue Eyes 4:40
05. After The Fire 4:40
06. Slit Skirts 5:30
07. Blue Light 8:40
08. I Put A Spell On You* 3:30
09. Hiding Out 3:40
10. The Sea Refuses No River 3:50
11. Face The Face 5:30
12. Pinball Wizard 3:20
13. A Little Is Enough 5:15
14. Rough Boys 4:25
15. Nighttrain 5:30
* not on CD
Ich danke Stephane Lauer für diese Information!