David Gilmour Interview über Syd Barrett
23.1.2010: Die Mojo März 2010 Ausgabe widmet sich ganz Syd Barrett. Auf 14 Seiten mit vielen bisher unbekannten Fotos berichten u.a. David Gilmour, Robert Wyatt, Storm Thorgerson, Mick Rock über den ehemaligen Pink-Floyd-Mastermind.
Im Bericht schildert "Madcap" Coverdesigner Storm Thorgerson alle Geheimnisse die sich im Coverfoto befinden. Und David Gilmour erwähnt zum ersten male, das er sich mit dem Gedanken spielt eine Selektion von Syd Barrett "Outtakes" aufzupolieren und auf einem Album zu veröffentlichen!!
David Gilmour: "These days, you can take bits of each and seam them together invisibly, and make something that's still Syd but a little bit prettier. It's one of those things I'm tempted to look at, but I suspect your ardent Syd fans would go, 'That's terrible, sacrilege!'"… But it's important that the world is reminded what a total genius he was."
Die Ausgabe ist noch nicht im Handel erhältlich, mehr dazu in den nächsten Tagen! Inhalt: SYD BARRETT: Four decades after recording his dark solo masterpiece The Madcap Laughs, those who knew psychedelia's lost boy best join MOJO to tell the inside story of his mythical descent into madness.
AND FINALLY… See Syd's Madcap London flat as it looks now!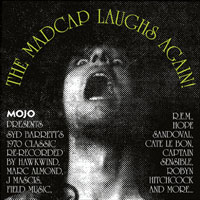 FREE CD – The Madcap Laughs Again! Dem Heft beigelegt ist außerdem eine CD mit neuaufgenommenen Syd Barrett Songs u.a. von Hawkwind, Marc Almond, R.E.M., Captain Sensible und Robyn Hitchcock!
CD Songliste:
01. Field Music – Terrapin
02. J. Mascis – No Good Trying
03. The Besnard Lakes – Love You
04. Race Horses – No Man's Land
05. R.E.M. – Dark Globe
06. Hush Arbors – Here I Go
07. Captain Sensible – Octopus
08. Hope Sandoval & The Warm Intentions – Golden Hair
09. Hawkwind – Long Gone
10. Skygreen Leopards – She Took A Long Cold Look
11. Cate Le Bon – Feel
12. Jennifer Gentle – If It's In You
13. Marc Almond – Late Night
14. Robyn Hitchcock – Dark Globe (live bonus track)