Benedict Cumberbatch erhielt "Comfortably Numb" Einladung von David Gilmour per SMS!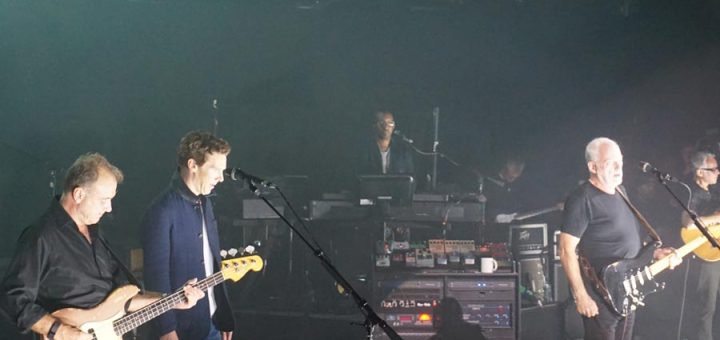 Seit David Gilmour 2001 mit Robert Wyatt begann ist daraus so was wie eine Tradition geworden, dass er bei Konzerten in London Gäste zu sich auf die Bühne holt um gemeinsam "Comfortably Numb" zu singen. 2002 war es Wyatt einmal mehr, Bob Geldof und die scheue Kate Bush! 2006 schoss Gilmour mit David Bowie am ersten Abend in der Royal Albert Hall den Vogel ab, 2015 Graham Nash und David Crosby, der 2016 in der Hollywood Bowl ein weiteres Mal auftrat. Und zuletzt am 28.9. in der Royal Albert Hall war es der Schauspieler Benedict Cumberbatch, der mit ihm "Comfortably Numb" sang!
Cumberbatch ist gerade damit beschäftigt seinen neuen Film Doctor Strange, dessen Soundtrack einen Song von Pink Floyd enthalten soll, zu bewerben. Bei einer Q&A Session des Guardian beantwortete er die Frage: Wie es für ihn war mit David Gilmour Comfortably Numb zu singen, folgendermaßen.
Benedict Cumberbatch: David texted me – I resisted for a while, especially because of those who had gone before – David Bowie and Kate Bush, among the legends. But then I realised I'd probably regret not standing beside him listening to him playing the body of the song, singing like a dream, more than I'd regret doing something out of my comfort zone!
Im amerikanischen Frühstücksfernsehen "Good Morning America" sagte Cumberbatch außerdem, dass er regelrecht erschrocken war!
Benedict Cumberbatch: I was utterly, utterly terrified. I mean, that's a very sort of, talky singing number. It's not a true test, not like singing an Adele track, but to stand on that stage that near to Dave Gilmour and watch him make that guitar sing, and his voice just gets richer and richer with time, no matter how high it goes, it's just amazing. I thought I'd regret not doing it more than I'd regret doing it, even though it makes me cringe a bit to watch it, but it was incredible.
Gilmour postete auf seinem YouTube Channel einen Videoausschnitt: Comfortably Numb (featuring Benedict Cumberbatch).